1) Shipping: "Hanjin is not alone. Of the biggest 12 shipping companies that have published results for the past quarter, 11 have announced huge losses. Several weaker outfits are teetering on the edge of bankruptcy. In Japan three firms, Mitsui OSK Lines, NYK Line and Kawasaki Kisen Kaisha, look vulnerable. … Even the strongest are suffering. France's CMA CGM, the world's third-largest carrier, announced a big first-half loss on September 2nd. Maersk Line, the industry leader, and the largest firm within A.P. Moller-Maersk, a family-controlled Danish conglomerate, will be in the red this year, having lost $107m in the six months to June. The industry could lose as much as $10 billion this year on revenues of $170 billion, reckons Drewry, a consultancy" [The Economist]. "Two powerful forces have rocked the industry. The first is the ebbing of world trade since the financial crisis. … The second factor is a surge in the size of the global container fleet following a ship-ordering binge that began around 2011. Overcapacity has crushed freight rates."

2) Political Risk: "There is no r*" [Philosophy of Money]. "Like many ec-ono-myst-ic-s, I have been trapped into thinking that there is an equilibrium real rate of interest – a level of the policy rate consistent with stable inflation, a closed output gap, or full employment. The trick for policy makers is to find the magic level…. Increasingly, it has become clear that this entire framework is deeply flawed. For example, it is very likely that there is simply no level of the real policy rate in the Eurozone that will return the continent to trend growth. Why, after all, should the real interest be this all powerful lever which will single-handedly can raise or shrink demand to the level consistent with stable growth and inflation?"

3) THE DEATH OF THE BAKKEN FIELD HAS BEGUN: Means Big Trouble For The U.S.

The Death of the Great Bakken Oil Field has begun and very few Americans understand the significance. Just a few years ago, the U.S. Energy Industry and Mainstream media were gloating that the United States was on its way to "Energy Independence."

…

Great Bakken Oil Field is now down a stunning 25% from its peak in just a little more than a year and half ago

:
.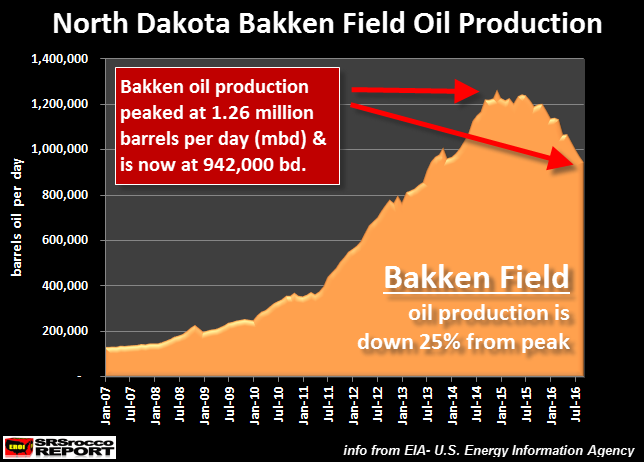 …

Eagle Ford oil production is slated to be down a stunning 40% since its peak last year

.
.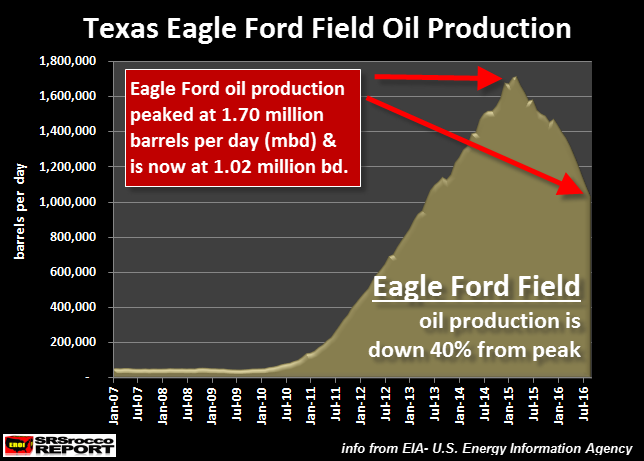 ***