1) The real returns on government debt have been low and volatile
***
2) Since NAFTA's implementation, poverty rates for Mexicans have grown, both in real terms and in comparison with other Latin American nations. For Chiapas, the real impact was on agricultural labor and that sector has been decimated. Between 1991 and 2007, 4.9 million Mexican farmers were displaced with a net loss in all agricultural labor of 1.9 million jobs. Meanwhile, whereas in 1990, the United States had 4.5 million residents born in Mexico, by 2009, it was 12.6 million.

3) 'Kernel memory leaking'

Intel

processor design flaw forces Linux, Windows redesign

The Register

.

E. Mayer: "Existing 'flaws', a.k.a. NSA-designed backdoors which have not yet known to have been discovered and exploited by third parties, will presumably remain operative. Carry on!"

And for the extemely geeky:

The mysterious case of the Linux Page Table Isolation patches

P

ython sweetness

. "I would not be surprised if we start 2018 with the release of the mother of all hypervisor privilege escalation bugs."

***

Ad targeters are pulling data from your browser's password manager

The Verge



4) What's Behind The Canadian Rig Count Crash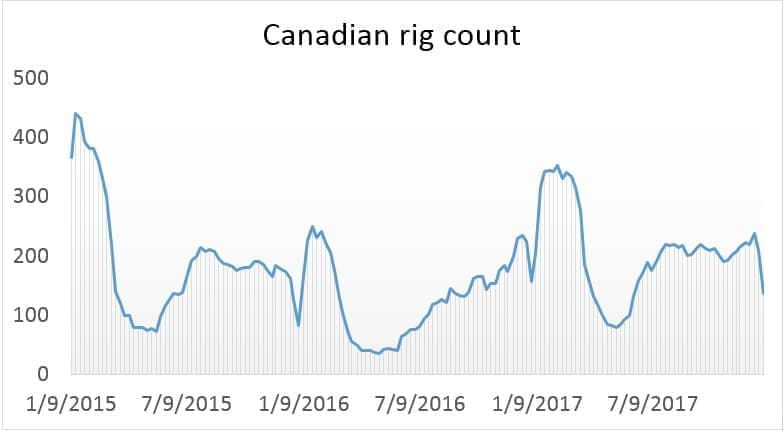 Alberta oil producers are essentially hostage to their buyers in the U.S., and with oil production now bumping up against a ceiling in terms of pipeline capacity, the glut is starting to weigh on WCS prices.

5) Dismal ignorance of the "dismal science"—a response to Larry Elliot December 20, 2017

« We

мГиЁмЪЪ, шо ми таки

analyse data. Gigas and gigas of data on how much people work, which jobs they do, what they buy and what they eat, how they do in school and other aspects of human life. We do so for the UK and many other countries around the world—rich and poor.

We analyse this data

с заведомо дуГацькё задачёй

to understand how people make choices, because that determines how they respond to policies and how they interact. »
…
« But why do Elliott and many others have such a distorted view of economics?

The first answer to this question, we think, lies in a misunderstanding of the purpose of mathematical models. Critics complain that economists' models are not realistic and make absurd assumptions. The London Tube map is not realistic and makes absurd assumptions. If it did not it would be illegible. And useless. »



Шоп вам

жить на одну

...

©

всю оставшуюся никчёмную жисть лечил дантист, обучавшийся исключительно на Щелкунчике!





У ВеГы матч с Сенькою упоротому *

удаку

, вапГоЙзивши, шо ГеЙчь йдэ за мапу и тэГеЙтоГеЙю

…

« The other function of maths is that it can be a powerful lie detector. »



Тута я упалпацстол… Выражение

GIGO

ентой упоГоЙтой непоротой школоте неведомо от вапще

…

« The way economics is done has been transformed in the past 30 years with an empirical revolution, meaning we now use fine-grained data on individuals, households and firms. »,

то исть того, чего в природе, данной нам в ощущениях, заведомо не существует

.

« While a perfectly competitive market is a useful benchmark, most interesting economics is about the study of market imperfections… »


Пга-а-а-ильное ГеЙшениЁ! Сви-ней, сви-ней!

©

Онё соби пид Лэниным чищётьЪЪ

.
…
« Most importantly, and the reason we are writing this, is that all the bashing of economics can change how policy is made. It gives politicians freedom to make policy choices without being accountable to the facts. We are heading away from evidence-based policy and dangerously close to surrender to special interest groups, gut feelings and superstitions. Now, that is something truly scary. »



Ja,

j

a,nat

ürlich

,

самий цымэсьЪЪ в том, шоп усим указявки подавать, ни за что при том не отвечая

.



ТП стадом




Signatories

:
Orazio Attanasio, UCL
Oriana Bandiera, LSE
Richard Blundell, IFS and UCL
Steve Machin, LSE
Rachel Griffith, University of Manchester and IFS
Imran Rasul, UCL
Наличие уродливых б*ядей исчерпывающе показывает суть мужчин и свободного рынка.