1) резко повышены тарифы на поставки фотопанелей и стиральных машин. По первым пошлина увеличена до 30%, по вторым — от 20% на первые 1,2 млн. и 50% — сверх того. По стиральных машинам ограничение будет действовать три года, по фотопанелям — четыре.
.
***
.
P-dent D. Trump dealt his biggest blow to the renewable energy industry yet.
.
On Monday, Trump approved duties of as much as 30 percent on solar equipment made outside the U.S., a move that threatens to handicap a $28 billion industry that relies on parts made abroad for 80 percent of its supply.
.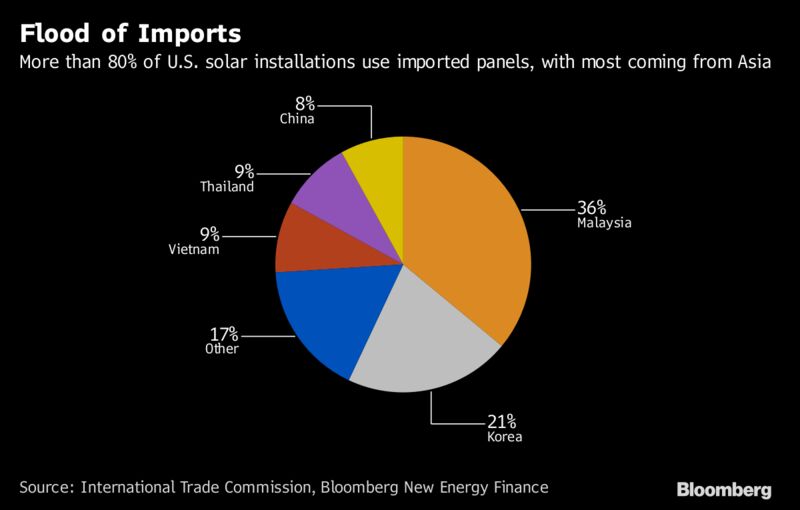 .
***
.
[Politico]
"P-dent D. Trump took his first major step toward fulfilling his promises to crack down on China and other countries to protect U.S. producers when he moved Monday to slap hefty tariffs on imports of solar panels and washing machines. The decision is being seen as a prelude to coming actions on steel and aluminum imports as well as on China's intellectual property practices — and it gives Trump a hammer to swing when touting his "America First" worldview in Davos, Switzerland, later this week"
.
"But the decision to impose the tariffs, while still a boon for U.S. manufacturers, were not as extreme as they could have been. Both actions hewed closely to the recommendations of the U.S. International Trade Commission… What the decision could do is embolden other U.S. manufacturing sectors, who have not yet had the spotlight under this administration, to petition for similar measures."
.
2)
"At 61%, the three newest iPhone models together represented a somewhat smaller share of total US iPhone sales in the quarter, compared to 72% for the iPhone 7 and 7 Plus a year ago,"