. 1831 – Powstanie Listopadowe: zwycięstwo powstańców w bitwie pod Nowogrodem.

+

In 1841, the Chemical Society of London held its first organizational meeting.

+

1861
– Presik-elect A. Lincoln arrives secretly in Washington after the thwarting of an alleged assassination plot in Baltimore, Maryland.
– Texas by popular referendum became the 7th state to secede from the Union.

+




. 1901 броненосец

Цесаревич

спущен

на воду.

. 1921 : Une équipe de pilotes effectue un vol postal expérimental coast-to-coast en volant de jour et une partie de la nuit : ils relient San Francisco à Long Island en 36 heures.

Plutonium is first produced and isolated by Dr. Glenn T.

Seaborg

.

US

[

Operation Trinity and Manhattan Project

|

Berkeley

, California]




Dr. Glenn T. Seaborg chemically identified the recently discovered new element

Plutonium

in the 60-inch cyclotron at the University of California at Berkeley.

. Завершены

гос. испытания Су-2 М-88Б № 1/6.

. Всеобщая забастовка в Дамаске.

. …Погода вёдреная. День ясный, солнечный. Утром по радио передано — мороз 35 градусов. …
War Diary for Sunday, 23 February 1941

Germany

. 23. Februar: … empfängt Außenminister Ribbentrop im

Schloss Fuschl

den neuen japanischen Botschafter Hiroshi Oshima.




Ribbentrop recommends Japan enter the war as soon as possible.




Joachim von Ribbentrop hosted Hiroshi Oshima in his home in Germany, where

Ribbentrop attempted to persuade the Japanese ambassador that it was the time for Japan to strike British territories in Asia

. Ribbentrop argued that there was little worry regarding the US as American possessions in Asia could be bypassed easily, but should the Americans decide to go to war, the Japanese Navy was vastly superior to the US Navy.




Italy




Mussolini speech: We shall fight to the last drop of our blood.

.

Личная и замш разведка местности и расположения

.




. Караван в Неаполе задержан плохой погодой.

.

9.2.–12.3.1941




. Die nach Großbritannien laufenden Konvoi HX.111 (

23.2.–12.3.

, 23 Schiffe) überqueren den Atlantik ohne Verluste.




.

22.– 24.2.1941




. Operation gegen den Konvoi OB.288.




.

23.– 25.2.1941




. Operationen gegen den Konvoi OB.289.




.




19 boats at sea: U-46, U-47, U-48, U-52, U-69 (br 4,542, 6000 tons of general cargo), U-70, U-73, U-95, U-96 (br 5,457, 3015 tons of coal), U-97, U-99, U-103, U-105, U-107 (br F 104, 5,360), U-108, U-123, U-124 (+), U-147, U-552.




.

.

19.–23.2.1941




. Operation "MC.8": Die brit. Mittelmeerflotte bringt von Alexandrien einen Konvoi nach Malta, gleichzeitig laufen Konvoibewegungen nach Griechenland. Das südostwärts Malta stehende ital. U-Boot

Dagabur

sichtet die Verbände nicht.




. Die 2./KG.4 wirft Minen im Suez-Kanal.

Kriegstagebuch für

Sonntag den 2

3

. Februar 1941

.

Italien

: Mussolini spricht auf einer faschistischen Kundgebung im Adriano-Theater in Rom: 'Wir werden bis zum letzten Blutstropfen kämpfen.' Er versucht, die katastrophalen Niederlagen in den italienischen Feldzügen in Griechenland und Nordafrika zu verharmlosen und nennt zehn Gründe, warum Großbritannien diesen Krieg nicht gewinnen kann und verspricht den 'Sieg und einen gerechten Frieden'.




.

der 23.2.1941, der 23.

Februar

1941 war ein

Sonntag

. Schweden gewinnt in Garmisch-Partenkirchen ein Eishockey-Länderspiel gegen die deutsche Mannschaft 9:0.




. Der Neue Brockhaus, das "Allbuch" in vier Bänden und einem Atlas, erscheint in der ersten Auflage.

1941 FEBBRAIO 23 DOMENICA

Koritzis accetta gli aiuti offerti dalla Gran Bretagna

. Il primo ministro greco Koritzis accetta formalmente l'aiuto che la Gran Bretagna offre al suo paese: una forza di 100.000 uomini con 240 pezzi di artiglieria da campagna, 32 cannoni di medio calibro, 192 cannoni antiaerei e 142 carri armati.

Eroica resistenza italiana nel presidio di Giarabub

.

Africa settentrionale

. Il presidio italiano di Giarabub, nella Cirenaica orientale, resiste eroicamente.

[

Balkans Campaign

]




PM Alexandros Korizis of Greece accepted British offer of aid, but British and Greek commanders debated on the defense strategy against a German invasion through Bulgaria. The Greeks preferred to dig in along the

Metaxas Line

, while the British argued for a line further southwest along the Vermion Mountains and the Haliacmon River.

Sunday, February 23, 1941

In Athens

… The Greeks agree to accept a British force which at this stage is intended to be 100,000 men with suitable artillery and tank support. The Greeks are very reluctant to accept anything less since it would not be enough to fight the Germans off and would only encourage them to attack. The disposition of the British and Greek forces is also discussed. The British prefer a position along the line of the Aliakmon River but the Greeks are unwilling to give up the territory which this line does not cover. No final decision is made – a serious omission in light of later events.

1951 – The first B-29 mission using the more accurate MPQ-2 radar bombed a highway bridge seven miles northeast of Seoul.

1971




In Operation

Lam Son 719

, the South Vietnamese advance into Laos grinds to a halt.




The operation began on February 8. It included a limited incursion by South Vietnamese forces into Laos to disrupt the communist supply and infiltration network in Laos along Route 9 adjacent to the two northern provinces of South Vietnam. The operation was supported by U.S. airpower (aviation and airlift) and artillery (firing across the border from firebases inside South Vietnam).




Observers described the drive on Hanoi's supply routes and depots as some of the "bloodiest fighting" of the war. Enemy resistance was initially light as a 12,000-man spearhead of the South Vietnamese army thrust its way across the border into the communists' deepest jungle stronghold, with the town of Tchepone, a major enemy supply center on Route 9 in Laos, as the major objective. However, resistance stiffened in the second week as the North Vietnamese rushed reinforcements to the area. On this day, the big push bogged down around 16 miles from the border, after bloody fighting in which the communist troops overran two South Vietnamese battalions.

.

Попытка гос

.

переворота

в

Испании

.




. 23 lutego – oddziały

Guardia Civil

przeprowadziły nieudaną próbę

puczu

wojskowego w Hiszpanii.




. 1981 : tentative avortée du coup d'État militaire (du

23-F

) par le colonel

Tejero

et ses complices en Espagne. Le roi Juan Carlos I

er

appelle lui-même un à un chaque QG de caserne dans le pays durant la nuit qui suit pour ordonner de ne pas suivre cette aventure et sauver ainsi la jeune constitution démocratique de 1978 qu'il a contribué à instaurer.




. Завершено стр-во

нефтепровода Сургут–Полоцк

.




. 23 февраля–3 марта —

XXVI съезд КПСС

.

. 23 lutego




. – doszło do wojskowego zamachu stanu w

Tajlandii

.




. 1991 : le général thaïlandais Sunthorn Kongsompong

(en)

mène un coup d'État sanglant et dépose le Premier ministre

Chatichai Choonhavan

.




. – rozpoczął obrady III Zjazd

"Solidarności"

.




.

Чёт как-то в ентот день что ни съезд, то переворот

…

2001




Commissioned

HMAS

Dechaineux

(SSG 76)

, the fourth of six

Collins

class

submarines operated by the RAN.

Commissioned HMAS

Sheean

(SSG 77)

, the fifth of six

Collins

-class submarines operated by the RAN.

. –

strajk generalny

w Grecji.




. – po 19 latach został zniesiony

stan wyjątkowy

w Algierii.




. – ostatni samochód (

Chevrolet Aveo

) zjechał z linii montażowej

FSO

.
These Countries
Have Yet To Start
Covid-19 Vaccinations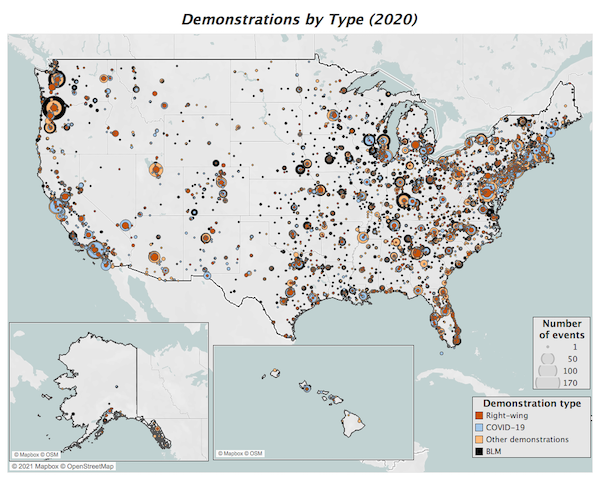 <https://acleddata.com/dashboard/>
+
. В Илекском р-не Оренбургской обл. произошёл взрыв на магистральном газопроводе ООО «Газпром трансгаз Екатеринбург», сообщает 23 февраля пресс-служба пр-ва области.